Wahhh ….. Tora Sudiro menang!
Congrats!!! Wah.. tumben-tumbenan tuh generasi muda dapet piala Citra.
I didn't know any of this until yesterday morning over breakfast, as usual, saya selalu ditemani acara infotainment (walaaahh … ibu RT banget gak sehh?).
Ternyata, piala citra udah diadain pas hari Sabtu. Yahh … kok Sabtu, siiyyy! Gak seperti biasanya hari Sabtu yang saya anteng di rumah nemenin si mamie nonton 'Bunda' (saya sehh nonton Tora heheheheh), saya Sabtu kemaren malah wondering around Plasa Senayan sambil ngupi-ngupi . Well well … tapi gapapa namanya juga ketemu temen lama. Anyway, I was came to my surprise that the winner for the best actor is TORA SUDIRO.

Here are his comments (taken from some online media)

"Gue senang banget, gue bangga banget!" seru Tora, yang suka bercanda, di tempat jumpa pers, di luar gedung pertunjukan, setelah ia menerima piala Citra. (taken from Kompas cybermedia, Dec 13, 2004)

Maka, Tora sekarang lebih mirip sosok dengan beberapa muka. Dia gay, sebab bagaimanapun cap itu tetap masih lekat dalam dirinya, paling tidak oleh penonton film Arisan!. Tapi dia juga komedian piawai. Di muka yang lain, Tora juga seorang pengacara muda yang gandrung pada mitra kerjanya seperti ditunjukkan dalam perannya sebagai Chris dalam serial komedi televisi Dunia D. Kontras dengan itu, dia juga Banyu yang pemurung dan penuh tekanan psikologis seperti dalam film Banyu Biru yang baru akan ditayangkan tahun depan. (taken from Suara Merdeka, Dec 14, 2004)

Tapi yang paling bikin gak ku-ku … pas dia bilang (kurang lebih)
"Citra tahun ini, sapa dulu dong Jagoannya …" dengan pandangan yang waddduuuhhhh undescribable bangetttt ….. RONTOKKK HATIKUUU!!! Heheheheh ….

Well, well …. Congratulations Tora wherever you are ….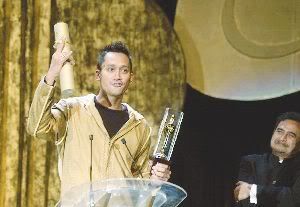 So typical of him!!! (courtesy from Suara Merdeka)


posted by .:nien:.