Thursday, September 01, 2005
.:home:.
.:n:.
an ordinary humble blog about the life, the thoughts and the stories of 30 something years old female, who is still finding her ways to perfections and maturity.
.:follow me:.
.:buzz me:.
.:just published!:.
.:chit-chat:.
.:recent comments:.
.:photoworks:.
.:recently:.
.:history:.
.:other things:.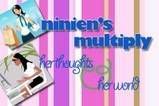 pictures are taken from.:getty images:.
Subscribe in a reader
Subscribe to My Thoughts, My Life, My Stories by Email